Welcome to Ro-Ghoul Wiki!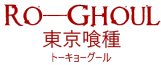 Game Information
Ro-Ghoul features a wide variety of objects and environments to discover. Players are given the choice to play as a member of one of two factions: a ghoul, or a member of CCG. The object of the game depends on the player's faction.
As a Ghoul, players can either live peacefully, or engage in genocide. However, they are always in fear of being hunted and killed by other ghouls, or humans that are trained to kill ghouls.
As a member of CCG, players risk their lives to protect people from the human-like monsters who eat human flesh.

No matter which faction the player belongs to, they must gain strength and complete quests to increase their Reputation with their particular faction. Currency is collected for each point of reputation, which can be used to purchase cosmetic items (such as Masks). Players can also choose to fight each other, hang out with friends, organize competitions, or fight bosses to gain even more experience!
Have You Reviewed the New Policies Yet?
If you did not receive a prior announcement regarding the new policy changes done on the Ro-Ghoul Wiki nor an updated greeting on your Message Wall, you may want to review our policies. By continuing to participate on the Ro-Ghoul Wiki, you are agreeing to these policies. Rules • Policies and Guidelines
---
The announcement and official blog post by Ox Rookbane can be found here: read.
News
Create blog post
News Feed
The has grown for almost 2 years now. Our Wiki has ran on the same policies for that long, with so…

Read more >

As you can see, our Wiki has drastically changed. Happy April Fools, people! This will be gone by to…

Read more >

Happy Spring, everyone! The first day of Spring began on the 19th (2 days ago) and it does not feel…

Read more >
See more >
---
Poll(s) of Interest
Have you read our new policies yet?
Do you like the new "Specials" feature for ghouls?
Latest Blog Posts
Create blog post
Blogs in the Community
Hello! My name is Specialerity and its tips is about CCG not ghoul! Remember patience is the key to make grind easy. Let's get started! Also i am a g…

Read more >

Tips for Beginner: Hello, my name is Specialerity and i have experience on Ro-Ghoul. Before we start, to do this tips, you gotta be patient or you wo…

Read more >

This is an idea of mine I've had for a while (please be honest with what you think about this idea but please don't be mean).

My idea is to restrict c…

Read more >
See more >
Community content is available under
CC-BY-SA
unless otherwise noted.